Girls gotta flash, and Boys gotta cry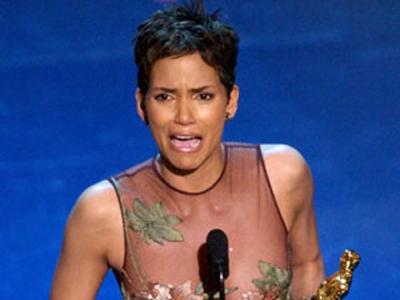 What in tarnation?  O.K., so I bastardized Oscar Hammerstein II's lyric from Show Boat's "Can't Help Lovin' Dat Man" to make a point:  when it comes to getting an Academy Award nomination – and even winning the Oscar – actresses  who take off their clothes can enhance their chances and actors that cry on screen can improve their odds.  Both of these 'acts' demonstrate an actor's "commitment to the role" and they can get rewarded for taking such a risk.  Think I'm being cynical, read on:
Obviously nudity wasn't even a possibility during the years that the production code was in place and being enforced, and it took some time before the conservative voting bloc of the Academy of Motion Pictures Arts and Sciences would even consider nominating an actress that dared to bare a breast or take off her clothes, but times changed. While others might find another demarcation point for mainstream Hollywood's shift to presenting more (previously deemed) 'taboo' aspects on film AND A.M.P.A.S.'s acceptance of it, I'll choose 1997.  There were two films that year which began this newest 'edgier' trend, and it didn't hurt that one of them shattered box office records and held the title of the highest grossing film of all-time for more than a decade:
James Cameron's Titantic (1997) featured Kate Winslet's daring pose for Leonardo DeCaprio's sketch of her naked torso, an act which played out during their character's forbidden romance on the fated cruise ship.  Ms. Winslet earned the first of her four Best Actress Academy Award nominations for her role and, in going several steps further – nudity-wise – she finally won the Oscar for her part in The Reader (2008).
The other trendsetter of 1997 was Paul Thomas Anderson's Boogie Nights (1997), which explored the world of pornographic filmmaking in the late 70's and early 80's.  Not only did the film earn veteran Burt Reynolds his only Academy recognition – he played an adult film director – but, by taking significant risks playing a porn star, it earned Julianne Moore her first Oscar nomination.
Since this metaphorical dam break, edgy subject matters and actresses' nudity have been accepted in mainstream films; the Academy has since recognized movies and female performances that, previously, might have been ignored, or perhaps even shunned:  from American Beauty (1999), which won several Oscars including Best Picture, Hilary Swank's win for Boys Don't Cry (1999), Halle Berry's Monster Ball (2001), Charlize Theron's Monster (2003), Brokeback Mountain (2005) and so forth.  More recently, it would be easy to argue that the sexual content in Vicky Cristina Barcelona (2008) and Black Swan (2010) contributed to Penélope Cruz's (Supporting Actress) and Natalie Portman's (Best Actress) wins.
For some reason I feel compelled to mention Julie Andrews's spoof of her squeaky clean – Mary Poppins and (Sound of Music) Maria – onscreen persona in her director-husband Blake Edwards's comedy bomb S.O.B. (1981) – she flashed!  While this didn't earn Ms. Andrews any recognition from the Academy, she did receive her third and last (to date) Best Actress Oscar nomination for her next film, in the title role of Victor Victoria (1982).
If actresses can get the Academy's attention by flashing some nudity, something that was traditionally 'taboo' for top-flight actresses in mainstream movies, then the equivalent for their male counterparts – to show how committed they are to their roles – is to ignore another common parental admonishment, that "boys don't cry".  One film that illustrates both is The Wrestler (2008), for which a naked Marisa Tomei earned a Supporting Actress nomination and a crying Mickey Rourke earned a Best Actor nod.
The history of men crying on film to acclaim may have started with Jackie Cooper in Skippy (1931), who received a Best Actor nomination for his tearful performance – a friend's mutt was put down by the dog catcher – in the title role.  In case you're wondering, Freddie Bartholomew wasn't nominated for his similar performance when Spencer Tracy's Manuel died (though Tracy did win for Best Actor) in Captains Courageous (1937).  Tough guy James Cagney's 'cowardly' crying at the end of Angels with Dirty Faces (1938) surely helped to earn him a Best Actor nomination, and his tears at his onscreen father's (Walter Huston, a Supporting Actor nominee) deathbed in Yankee Doodle Dandy (1942) may have contributed to his win several years later.  Frequent leading man Van Heflin received his only Academy recognition that same year for his crying scene in Johnny Eager (1942); he won the Best Supporting Actor award. When tough guy Humphrey Bogart showed a sensitive side in Casablanca (1942), he earned his first Best Actor Oscar nomination.  Claude Rains tears up in his title (though supporting) role performance as Mr. Skeffington (1944), and was nominated for the third of his four times (without a win; a travesty).
Perhaps it was just me crying for 1945's two winners – lead Ray Milland (The Lost Weekend) and supporting James Dunn (A Tree Grows in Brooklyn) – but it's also possible that they both did it themselves, onscreen in their roles, and 1946's The Best Years of Our Lives and It's a Wonderful Life certainly evoked the tears of their audiences.  The decade closed with Richard Todd's memorable and (his only) Best Actor nominated performance as a disagreeable Scot in The Hasty Heart (1949); his character's tough demeanor is finally cracked by a gift from his fellow hospitalized soldiers.
Of course the 1950's brought us Marlon Brando and his more passionate method of acting.  Shortly thereafter, displays of emotions by men on screen became more commonplace be they outbursts of rage, tears, or you name it.  Dustin Hoffman (followed by Al Pacino and Robert De Niro) was among the more prominent that continued the trend.  Without detailing all of these actors and their performances, I do think that there is certain irony in the fact that Spencer Tracy, one of the oldest 'guards' left from the then defunct studio era, ended his career with perhaps his most sentimental scene at the close of Guess Who's Coming to Dinner (1967), for which he received his ninth Best Actor nomination, posthumously.  This begs the question:  did Clark Gable ever cry on screen?
Over the past 20 something years, here is a partial accounting of men crying on screen that have won (bold) or received Academy Award nominations for performance in which they shed tears:
Best Actors:
Al Pacino, Scent of a Woman (1992)
Tom Hanks, Philadelphia (1993)
Tom Hanks, Forrest Gump (1994)
Sean Penn, Dead Man Walking (1995)
Tom Cruise, Jerry Maguire (1996)
Matt Damon, Good Will Hunting (1997)
Tom Hanks, Saving Private Ryan (1998)
Tom Hanks, Cast Away (2000)
Jack Nicholson, About Schmidt (2002)
Heath Ledger, Brokeback Mountain (2005)
Sean Penn, Milk (2008) – haven't seen it; I assume he cried
Brad Pitt, The Curious Case of Benjamin Button (2008)
Colin Firth, A Single Man (2009)
Supporting Actors:
Denzel Washington, Glory (1989)
Cuba Gooding Jr., Jerry Maguire (1996)
Tom Cruise, Magnolia (1999)
Michael Clarke Duncan, The Green Mile (1999)
Haley Joel Osment, The Sixth Sense (1999)
Tim Robbins, Mystic River (2003)
Thomas Haden Church, Sideways (2004)
Jake Gyllenhaal, Brokeback Mountain (2005)
Robert Downey Jr., Tropic Thunder (2008)
Christian Bale, The Fighter (2010)
Per the above list, Tom Hanks seems to have made a career of it!  Which is ironic, considering his A League of Their Own (1992) character's famous line "There's no crying in baseball!"
[youtube=http://www.youtube.com/watch?v=t48brs4QRjY]
For the passionate Pacino, it took eight (five leading, 3 supporting) Oscar nominations before his win for Scent of a Woman (1992).  Was it his tears that pushed him over the top?  On the other hand, Peter O'Toole, who effectively began his career by crying as Lawrence of Arabia (1962), has yet to win an Oscar for his eight (at the time of this article) lead actor nominations, though he did receive an honorary statuette in 2003, which preceded his last nom for Venus (2006).
[youtube=http://www.youtube.com/watch?v=IFSlNGH3DIE]
Sex sells, it always has, but there is something especially titillating (pun intended) and potentially rewarding for a top-flight actress that is willing to bare all for her role.  Likewise, when an actor is willing to exhibit tears of sorrow on screen, something that (traditionally) men have been shunned for doing, he too may be able to reap the rewards of his profession.