"I was born in and worked in a period that could be called enviable." – Tony Curtis
Tony Curtis, who died on September 29th at age 85, never seemed to be at rest. Even in repose and in old age, he appeared to be an eternally restless spirit. Sometimes that drive got him into trouble, but it often spurred him to keep trying to be something more than he was at every stage of his existence on earth. He was a rascal, one of the last of his breed, and he became his life's ambition since childhood: a very big movie star. He was also a good actor.
A Dickensian childhood characterized by aching poverty, Anti-Semitism, and exposure to the brutality of crime in The Bronx helped to plant the seeds of endless aspiration and vulnerability within him. It also sowed the longing for something beautiful that would drive him to the end of his days. One path that took was an unquenchable desire to be in the movies.
During a stint as a Navy sailor in the Pacific during the Second World War, Curtis would entertain his bored shipmates by turning down the sound of films that they had all seen countless times, and substitute his own comical dialogue for that of the characters. The GI Bill allowed him to study acting at the New School for Social Research and other drama schools, which were followed by appearances on stage in New York and The Catskills. His  presence and striking good looks, characterized by his blue eyes, elaborately pompadoured dark hair and a generous lower lip, brought the attention of agent, Joyce Selznick, who arranged for a contract with Universal-International.
Overwhelmed by the experience of being invited inside the magic kingdom he had imagined as a boy, surrounded by beautiful girls and all of life's possibilities, the neophyte's two minute dance with the sensual Yvonne de Carlo in a wordless bit part in director Robert Siodmak's film noir, Criss Cross (1949), was the role that first brought him acclaim. Movie audiences reportedly wrote in to the studio in such numbers asking "who was that guy who danced with Yvonne?" that the studio renewed his contract.  Curtis later said he "was faking the rumba" but just decided to keep on moving in rhythm with his skilled partner, "who could have made Quasimodo look good."  It also marked the first time that Curtis worked–however peripherally–with Burt Lancaster, who would mentor the younger actor in the next decade. :
[wpvideo B5F4PltF]
Tony Curtis was on his way. A series of movies that were slaughtered by the critics but slayed the adoring public followed, including the film, The Black Shield of Falworth (1954), with the alleged line that would haunt the actor for years: "Yonder lies the castle of my father." The mockery at his accent still stung a half century on. When he heard those words in the darkness of a Sydney, Australia movie theater, author Clive James realized instinctively  that something more might be occurring with his emergence–even though readers like me, who were born into a world where the words "Tony Curtis" were already well known, might not be aware of his initial impact on movie audiences. Perhaps he had not acquired the technique and emotional fluency of the actor he would become, but he was already someone who could command the screen for postwar viewers. As James describes it, the accent and the dialogue seemed superfluous then:
"No, of course Tony Curtis didn't write his most famous line. It was written by the otherwise unsung screenplay writer, Oscar Brodney. But Tony Curtis said it, in the accent of the only recently reconstructed Bernie Schwartz, and nobody ever forgot the high-flown speech bubble from a chivalric comic book recited in the cadences of the Bronx. 'Yonder lies duh castle of my fuddah.'
…his [American] naturalism was apparent even when he hammed it up. [Tony Curtis] had 'only in America' written all over him. But also written all over him was 'America is everywhere,' and that infinitely exportable quality of confident savvy stayed with him to provide the basis of his charm in the distinguished roles of his later career…I heard him say [that infamous line], and I didn't laugh. Along with the girls in the audience, I was too struck with his beauty.
I had already guessed that only America was big enough to produce Gene Kelly, and here was another living god, not quite as good-looking perhaps, but with an even more acute sense of the stylish energy that the Americans had so much of they could hand it out virtually free to the less lucky nations. If I knew that Australia was an almost equally lucky nation–and in some respects even luckier–I forgot it that day. I even liked the way he said the line. I was practising his intonation when I went home to my muddah."
What is fascinating about the way that Curtis spoke–whether or not he did so with a Noo Yawk accent or not, or the script was dismal or literate, was that his diction was always crisp. He invested his lines with such a sense of their meaning and became more verbally and emotionally fluent as his talent developed in the 1950s. According to Curtis' autobiography, American Prince: A Memoir, he came to loathe The Actor's Studio and The Method, since, in his view, it compromised fragile talents such as Marilyn Monroe, and "it encouraged everyone to mumble like Marlon Brando, only there was only one Brando." At the same time, the actor wrote that he knew "I could never compete with Marlon Brando, and sometimes that drove me crazy too." By his own confession, his study of another performer who rose from the slums, Cary Grant, helped Tony Curtis to find a template for his longed-for style, adopting a roguish air with a touch of the cad (especially on display in Billy Wilder's Some Like It Hot and in scenes between himself and Grant in Operation Petticoat).  Incorporating this jaunty style with his own natural intensity and sometimes prickly and sensitive nature, the actor transformed the pretty boy into an able and ambitious actor.
Btw, Tony Curtis appeared to enjoy being a star–conspicuously. He also enjoyed the company of six wives, fathered six children, had an active social life in The Rat Pack era, and pursued an international lifestyle that he relished with considerable élan. It should be noted that the life he led contributed to some substance abuse as well, though fortunately, he was able to wrest himself from these indulgences and survive.
In his own view, he said that "I am a little embarrassed to admit this, because I don't want people to think badly of me, but it's part of my makeup, and I can't pretend otherwise. Some people need alcohol. Some people need drugs. I need the attention of beautiful women." While I don't envy him and I never thought he was particularly attractive as a man, I admired his brash enjoyment of life. There was always something child-like about him that made it easy to identify with his many roles as a sorcerer's apprentice of some sort, eager to show you his most recently mastered trick as Houdini (1953) or often at the elbow of a (slightly) more grown-up figure played by Burt Lancaster, a Kirk Douglas or Yul Brynner.
What many people may not know about Curtis was that he aspired to be a painter, had several gallery shows, and spent considerable amounts of his movie loot on the work of modern artists who were sorely in need of recognition and the money.
A friend of the art dealer, Richard Feigen, the actor was introduced to artist Joseph Cornell in the 1960s. Cornell, a reclusive man whose evocative, poetic constructions, often in the form of a collage or a box, brought together elements of enchantment and mystery that disturb and exalt the spirit in his fascinating, often somewhat surrealistic art work. While he lived on Utopia Parkway in Queens in a crowded house with his mother, a younger brother handicapped by cerebral palsy and his art work for decades, Cornell was also an avid filmgoer and made experimental films himself. The artist's collection of movie ephemera made him a resource that film archivists of his time would turn to repeatedly for a rare photo or other object that he hoped to use in one of his meticulously composed boxes, some of which honored actresses such as Garbo and Bacall. Curtis, who visited the artist repeatedly after his introduction to him, tried to create his own boxes inspired by Cornell, and sent electric trains to his brother who amused himself with them. The actor suspected that the artist was captivated by the alluring beauty of his young wife (Christine Kaufman, at that time) as much as he was by the opportunity to meet a real movie star.
Though the non-committal Cornell was tepid in his response to Curtis' own art work, the acquaintance of the two disparate men did help Tony to reconnect with his own urge to develop his artistic gifts further. "I had been doing my boxes for years before I saw his work," Curtis said. "But seeing an artist of his talent and caliber doing the same thing kind of validated my own efforts." Tony Curtis continued to paint for much of his life, creating richly colored, fauvist-style still-lifes, portraits, and occasional collages, several of which are reminiscent of Henri Matisse. You can see several of the actor's paintings here.
The Serious Work
As I grew up, it took me time to really appreciate Curtis in his mature work. The first time I saw him as the extraordinarily conflicted Sidney Falco in Scottish director Alexander Mackendrick's Sweet Smell of Success (1957), was a revelation. That role, which may have one of the best scripts the actor ever had, by Clifford Odets and Ernest Lehman, from the latter's novella, allowed Curtis to display his street savvy manner and the desperation just beneath the surface. Playing a publicity agent whose neurotic energy and fear fuel his nightmarish life as he sacrifices every shred of integrity and dignity in pursuit of promoting his clients and appeasing J.J. Hunsecker (a powerful columnist, believed to be based on Walter Winchell and chillingly played by Burt Lancaster), Curtis gave an uncompromising performance that was brilliantly manipulative, repellent and exhausting to witness.
Watching the film, which mined and identified every sad betrayal of friends, foes and yourself that a certain level of American success can extract from a person is both harrowing and exciting. A second viewing allows a viewer to comprehend the control and the angst that this performance required from the actor, who received no recognition for his bleak performance (Sweet Smell of Success was considered a critical success and box office failure at the time of its release.) If you've never seen this film, which is on DVD, you can see the film online as well, beginning here.
I was impressed by his ability to hold his own playing a self-described "white cracker" on the screen while shackled to Sidney Poiter in The Defiant Ones (1958). I was unnerved by his unsettling and ultimately empathetic portrayal of The Boston Strangler (1968).
Most of all, as I grew up, I found Tony Curtis in the role of the tragic and tortured Ira Hayes in a now forgotten film, The Outsider (1961), to be most affecting, with his magnificent performance as the painfully introverted, alcoholic Hayes to be both simple and deeply felt. As Ira Hayes, one of the men who erected the flag at Iwo Jima, Curtis and director Delbert Mann etched an unforgettable story showing how this single act bestowed undeserved and unwanted fame on this Native-American man–and how it led him to destroy his own life. The dehumanizing effect of the military on the introverted Hayes helped to make him more vulnerable to the experiences he endured. It also gave Curtis another chance to show again that he was far too conscientious to continue only playing pretty boys. Now it is a film that may be justifiably criticized for the casting an non-Indian actor in the role of a member of the Pima tribe. Clint Eastwood's recent Flags Of Our Fathers (2006) may be the definitive rendering of the story of the flag raising on Mount Suribachi on Iwo Jima, but this film tells a more intimate and painful story.  Some of the power in this film can be glimpsed in this trailer for The Outsider, which is not on DVD:
[wpvideo uaGLkNzx]
The impact of that event and the guilt that followed the men who lived through that carnage was in sharp contrast to the wartime bond rallies where they were feted by their nation. They were made into media symbols, but few of them, especially Ira Hayes, ever felt like heroes. While some may write off The Outsider for the casting of an American of European descent in the lead, if that part had not interested a star of the magnitude of Tony Curtis, it seems doubtful that Ira Hayes's story would have been told at all until Eastwood's project. Curtis, who had received an Oscar nomination for The Defiant Ones, received very little recognition for his work in the part of this self-destructive man.
The Entertainments
My first awareness of Curtis as a force in film was through five films I relished as a child. I still do. He never took himself entirely seriously, and some of his movies reflect that humorous aspect of his outlook. They each have one foot in the world of romantic adventure involving myth, magic, spectacle and a willing suspension of disbelief. The other foot is invariably in the world that we live in to this day, full of tumult and striving for something just beyond our reach and beneath the surface.That being said, the Tony Curtis movies that I cherish may not be the kind of landmarks chosen for those endless "best of…" lists, but they are films that can be enjoyed repeatedly:
Houdini (1953-George Marshall)
I'm not really a fan of magic acts, but in this sprightly fun house of a biopic, Curtis brings a captivating brio, sincerity and a nice dollop of schmaltz to this fanciful portrayal of the most famous of all magicians, Harry Houdini. As he struggles to make his way in the world of vaudeville, Tony's Houdini aches for recognition, all the while caring for his Mama (Janet Clarke) and his beloved wife (played by the actor's first wife, the lovely Janet Leigh). The innovative publicity that Houdini used to draw attention to his escapades is presented in a highly entertaining manner. The old-fashioned film has several dramatically effective moments, especially when the escape artist is trapped under the ice on a frozen river. Magician's assistant Torin Thatcher's unearthly presence also kicks the story into higher gear, as Houdini pursues an "honest medium" while debunking the frauds and develops an obsession with a dangerous stunt. This film is great fun and it is on DVD.
Trapeze (1956-Carol Reed)
This story of the circus, with a real life veteran of the sawdust,  Burt Lancaster, playing a former trapeze artist who was grounded by an injury while performing a dangerous maneuver, has an air of authenticity in every respect, except perhaps for Gina Lollobrigida. Perhaps it was the sexist plot mechanics that limited her, or a struggle with English, but Gina's coarse character seems too obvious, though she fills out her costume very ably. (Katy Jurado is a far more appealing contrast to this character, but no one asked the accomplished Ms. Jurado to get up on a trapeze either).
Set in the Paris where tourists don't visit, which Reed evokes beautifully in the street scenes around the Cirque d'Hiver, Trapeze is a valentine to a tawdry but rather gallant way of life that was fading even then. Curtis plays Tino Orsini, who seeks out Mike Ribble (Lancaster) in order to master "The Triple," the dangerous stunt that left Mike's leg and self-esteem in tatters. Unlike most circus stories on film, which try to prove that their characters have "sawdust in their veins," Lancaster, Curtis and the supporting players are depicted with respect by the film. They are flesh and blood adults whose life outside the ring is often complicated by their commitment to their art.
Curtis, who trained seriously for two months for his role as the guileless young man who hopes for greatness, is seamlessly doubled in the film though he did much of the aerial work as a flyer himself. (It is generally believed that Lancaster performed all of his own routines). The chemistry between Lancaster and Curtis is far more vibrant in this movie than that generated between Lola (Lollobrigida) and the two men. The aerial sequences are formidably entertaining. Though this is set in a milieu that appears to be all glitz and glamour on the surface, it may be one of the better films depicting the intricacies of learning a craft, the depth of the relationships that are nurtured while doing demanding work well, and the satisfaction to be gained from mastery of a skill–a human experience that is hardly ever accompanied by a cheering audience –but one that can be treasured by those who experience it.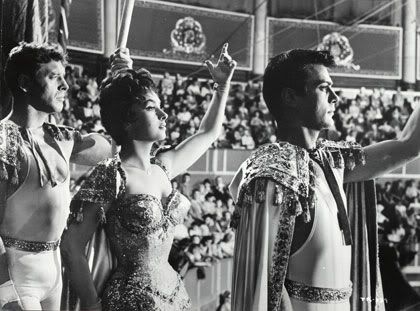 The Vikings (1958-Richard Fleischer)
Superbly photographed by Jack Cardiff, this is one of first films I can remember seeing (without adults being around) on television. Its barbaric charm has never dimmed, though I realize that the impression it made on me as a kid may be one reason for its undiminished power over my imagination. This raucous rendition of Viking life, circa the 9th century, may not be a film that is entirely accurate in every historical detail, but for sheer, unalloyed joyous storytelling verve, director Richard Fleischer took all he learned after making 20,000 Leagues Under the Sea (1952) and brought this same skill set to this project, which was filmed in glorious Technicolor in sparkling Norwegian fiords.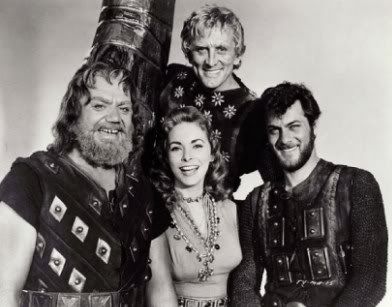 Tony Curtis, still considered a lightweight by many, plays Eric, a captive with a mysterious past who is enslaved by the Vikings.  The enmity between Eric and Einar (Kirk Douglas in his splendidly bigger-than-life madman mode) fuels the film. Einar is the son of the Viking chieftain, (Ernest Borgnine, playing Ragnar with gusto and a sneaky sense of mischief). The bond of hatred between the two younger men grows exponentially after a "small" incident with a hawk and the arrival of Janet Leigh as Morgana, an English noblewoman with the tightest bodice north of the Firth of Forth. Rather than my burbling further about this adventure tale, perhaps a peek at a few clips might whet your appetite.  "Odiiiin!"
[wpvideo ikw22Tti]
Spartacus (1960-Stanley Kubrick)
Much has been written about this very well done and intelligent epic film, set in the century before Christ, when an actual slave rebellion, led by the Thracian slave, Spartacus, shook the Roman empire. Tony Curtis was once again a slave, but an educated one this time, whose literate and sensitive air made Spartacus (Kirk Douglas) try to discourage him from joining the violent fighting. Spartacus was a role that Douglas played magnificently, and though he is a man of action, he remains a quietly powerful figure who inspires others, including Curtis, who joins in proclaiming that "I am Spartacus" when the slave army is defeated.  For Laurence Olivier's jaded Roman nobleman, Antoninus (Tony Curtis) was not just a "singer of songs" who recites "long ugo, long ugo, in de land of my fadder," for the gladiator army's entertainment, but was a pleasant diversion from his worldly ennui and someone he might discuss the difference between "snails vs. oysters" as a snack. The fraternal bond between Curtis and Douglas is again electric, with a climactic moment between them that is genuinely moving.
Kirk Douglas, who shared the screen with Tony Curtis in Spartacus, The Vikings, and The List of Adrian Messenger, responded to the news of his frequent co-star's death with the following words:
"This is a personal loss for me," Douglas said. "Tony and I were two Jewish kids from poverty-level families who could not believe our luck in making it as big Hollywood stars. We had a lot in common, and shared a warm friendship and many adventures both on and off the screen for more than half a century. I still have one of Tony's first paintings which he gave me years ago. I did three movies with him, and he was a much better actor than people realize: look at Some Like It Hot or The Defiant Ones. It's hard for me to believe he's gone because we had a long phone visit not too long ago. My heart goes out to Jill and all of his children."
The Last Tycoon (1976-Elia Kazan)
In one of the last professional efforts of director Elia Kazan's cinematic life, the director was able to assemble a remarkable cast composed of Robert Mitchum, Ray Milland, Dana Andrews and Tony Curtis in support of young Robert DeNiro, who won the role of Monroe Stahr, the fictional, Thalberg-like studio mogul fashioned by F. Scott Fitzgerald in his unfinished novel of the same name as the title. Curtis played Rodriguez, an aging leading man whose concern about his appearance on film is almost as poignant as his worries over keeping his sensual movie star wife, (Jeanne Moreau). He brings both burdens to the impassive but decisive Stahr, who mollifies him with his soothing pose of concern.
The film was not a critical or box office success, (people laughed out loud at some dramatic moments during the matinee I attended), with the best reviews going to Jack Nicholson as a labor organizer and Theresa Russell, as a child of Hollywood elite.  Despite this, certain scenes were outstanding, and, perhaps because this was the only Tony Curtis movie I can remember seeing in a theater, I found his uncertain character particularly touching. His character had a psyche that needed the approval and constant reassurance ordinarily sought by an insecure, emotional adolescent–though in this case  it was housed in the the body of a well groomed middle-aged man. On one level Rodriguez was a fool, and Curtis played the comedic aspects of the part well, while simultaneously using his sad blue eyes and studied gestures to convey the effort and despair that the character was experiencing inside. When Curtis wrote earnestly that he "was overjoyed to find [himself] with an outstanding part in a powerful film," and that he enjoyed working with Kazan, you believe him–even when he also felt compelled to dish a little by mentioning that the former leading men on the set resented his wardrobe and "sexy sideburns." Even if the film was not a lasting success, as a significant number of his movies had been, Tony Curtis, ever the outsider, never forgot that he was Bernie Schwartz, the dreamer. And he may never have quite believed that his own life or luck were real.
The following is a complete schedule for TCM's Sunday, Oct. 10, 2010 tribute to Tony Curtis (all times shown are Eastern):

6 a.m.
Beachhead (1954) – with Frank Lovejoy and Mary Murphy

7:45 a.m.
Kings Go Forth (1958) – with Frank Sinatra and Natalie Wood

9:45 a.m.
The Vikings (1958) – with Kirk Douglas, Ernest Borgnine and Janet Leigh

11:45 a.m.
Operation Petticoat (1959) – with Cary Grant and Dina Merrill

2 p.m.
Who Was That Lady? (1960) – with Janet Leigh and Dean Martin

4:15 p.m.
Sex and the Single Girl (1964) – with Natalie Wood, Lauren Bacall and Henry Fonda

6:15 p.m.
You Can't Win 'Em All (1970) – with Charles Bronson and Michèle Mercier

8 p.m.
Sweet Smell of Success (1957) – with Burt Lancaster and Martin Milner

9:45 p.m.
The Defiant Ones (1958) – with Sidney Poitier and Theodore Bikel

11:30 p.m.
Trapeze (1956) – with Burt Lancaster and Gina Lollobrigida

1:30 a.m.
The Great Race (1965) – with Jack Lemmon and Natalie Wood

4:15 a.m.
Don't Make Waves (1967) -with Claudia Cardinale and Sharon Tate
Sources:
Bierly, Mandi, "Friends Kirk Douglas, Kim Novak Remember Tony Curtis," Entertainment Weekly, September 30, 2010.
Buford, Kate, Burt Lancaster: An American Life, Da Capo Press, 2001
Curtis, Tony, Golenback, Peter, American Prince: A Memoir, Random House, Inc., 2009
James, Clive, Cultural Amnesia: Necessary Memories from History and the Arts, W. W. Norton & Company, 2007.
Solomon, Deborah, Utopia Parkway: The Life and Work of Joseph Cornell, MFA Publications, 2004.