A couple of years ago I wrote that one of the surest ways to earn an Academy Award – or at least an Oscar nomination – was to portray a prostitute.  Though the focus of the article was on actresses, Jon Voight also received his first nod for playing one in Midnight Cowboy (1969), the only X-rated film ever to take home the gold for Best Picture.  Another surefire way (there are several) of getting Academy voters' attention is to play a physically or mentally handicapped character, particularly if the story is about how the individual overcame their (real or perceived) disability to triumph in the end.  Without even including self-inflicted hardships, like those brought on by drug or alcohol abuse (and the movie is about their recovery), I've managed to compile quite an extensive list: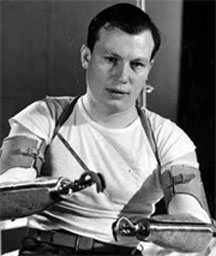 Harold Russell, who lost both hands in an explosion while training paratroopers during World War II, won two Oscars for his role in The Best Years of Our Lives (1946), the Best Supporting Actor and "for bringing hope and courage to his fellow veterans through his appearance"; the only time an actor has ever won two Oscars for a single performance.
Joan Crawford earned her second of three Best Actress nominations for playing a mentally unbalanced woman in Possessed (1947).
Jane Wyman played a deaf-mute and won the Best Actress Oscar for Johnny Belinda (1948); she beat Olivia de Havilland, who played a woman that finds herself in an insane asylum in The Snake Pit (1948).  Later, Wyman received the last of her four Academy Award nominations for playing a woman blinded (by a reckless Rock Hudson) in Magnificent Obsession (1954).
Arthur Kennedy received his only Best Actor nomination (to go with four Best Supporting Actor noms) for playing a soldier that is blinded by sniper fire during World War II in Bright Victory (1951); while his Southern character learns to live with this disability, he also overcomes his ignorant racial prejudice.
José Ferrer won the Best Actor Oscar playing long-nosed Cyrano de Bergerac (1950) and later earned a nomination in the same category portraying French artist Toulouse-Lautrec in Moulin Rouge (1952) while Susan Hayward
earned the third of her five Best Actress nominations playing singer Jane Froman, who survived a plane crash but still managed to entertain Allied troops during WW II, for With a Song in My Heart (1952) that same year.
Three years later, Eleanor Parker earned the last of her three Best Actress Oscar nominations playing Australian opera singing soprano Marjorie Lawrence, who made a comeback after being stricken with polio, in Interrupted Melody (1955).
Joanne Woodward won her Best Actress Oscar on her first of four nominations playing the title role in The Three Faces of Eve (1957), based on a real life case of a woman with multiple personality disorder.
The Miracle Worker (1962) – Patty Duke won the Best Supporting Actress Academy Award (her only Oscar nomination) for portraying Helen Keller in this remarkable true story.  Also Anne Bancroft, who portrayed Keller's tutor Annie Sullivan, who suffered from poor vision herself, won for Best Actress.
A Patch of Blue (1965) features Elizabeth Hartmann, who earned her only Academy recognition – a Best Actress nomination, for playing a blinded (accidentally by her mother, played by Shelley Winters, who won her second Best Supporting Actress statuette) girl that's befriended Sidney Poitier's character.
Audrey Hepburn earned the last of her five Best Actress Academy Award nominations for playing Efrem Zimbalist Jr.'s blind wife in the thriller Wait Until Dark (1967).
Charly (1968) – Cliff Robertson beat out Ron Moody's Fagin in Oliver! (1968) and Peter O'Toole's Henry II in The Lion in Winter (1968) to took home the gold in the Best Actor category (on his only nomination) for playing the title role in this drama about a retarded adult whose IQ is improved through science.
There were too many crazies (depending upon your definition) in the 70's to count …
I could go on and on, you get the idea:  Peter Sellers second and last Best Actor nomination for Being There (1979), John Malkovich's first Supporting nom for Places in the Heart (1984), Dustin Hoffman's second Best Actor win for Rain Man (1988), Robert De Niro's fifth Best Actor nod for Awakenings (1990), Tom Hanks' second consecutive Best Actor win as Forrest Gump (1994) etc.; btw, Lon Chaney Jr. was not nominated for playing Lennie in John Steinbeck's Of Mice and Men (1939), nor was Malkovich for the 1992 version, and John Barrymore was never recognized by the (then) young Academy, for his role in A Bill of Divorcement (1932) or for any other film.