With Jeff having already provided an excellent overview of the Telluride Film Festival, I've decided to focus on one of the films that Slavoj Žižek, their Guest Director this year, selected in celebration of "Neglected Noirs." As the TFF program notes: "One common thread of these three neglected noirs, each from a different decade, is the tortured face of the leading character: Tyrone Power, Robert Ryan, and, in one of the greatest cases of anti-casting, Rock Hudson. All three are shown in rare archival prints." The three films in question are Nightmare Alley (1947), On Dangerous Ground (1952), and Seconds (1966). As the latter title is one of my all-time favorites, I feel obliged to examine my own fascination with this wonderful film further.

I'll confess that when I first saw Seconds what really blew me away was the virtuoso cinematography. But repeat viewings have always rewarded me with even deeper meanings that suddenly seem to bubble up to the surface and take center-stage (not coincidentally, my getting older and going into mid-life certainly helps). Seconds is also a great film about the hollow victories of materialism as Arthur, the main character, is a banker who realizes that all his accrued possessions don't really amount to a hill of beans.
But it's not just about what you own or have, it's also about what you want, and why you want it, and ultimately, of course, about identity. Since Frankenheimer's audio-commentary for Seconds can only be found on laserdiscs and out-of-print dvds (to which I have access), I've decided to revisit the film via Frankenheimer's commentary and advise any readers adverse to spoilers to first watch the film before reading further.
The opening credit sequence by Saul Bass is accompanied by eerie organ music and perfectly captures what the film is about by using a metal mirror to distort closeups of eyes, mouth, teeth, lips, and ears. These shots build in tempo until they reveal a bandaged face.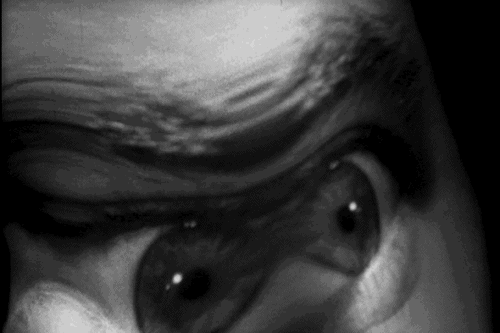 Then we come to the next star of the film… no, not Rock Hudson, but rather the work of James Wong Howe (a "very proper American-Chinese gentleman" of about 60-years-in-age at the time of the shoot). Frankenheimer (who was 35-years-old, but a three-pack-a-day smoker) makes it clear that Howe's contributions to Seconds were "enormous," and that he's never again worked with a cinematographer that had such a big influence on his films. Howe convinced Frankenheimer "to use the extremely wide-angle 9.7 millimeter lens." Howe also had a huge influence on Frankenheimer another way: when the director asked the elder Howe about the secret behind the cinematographers's ability to physically outpace the younger director on various shooting locations, Howe simply responded that he took his vitamins and didn't smoke. So Frankenheimer quit smoking and credits still being around to do the audio commentary thanks to that act (he passed away in 2002 due to complications from a spinal surgery).
The first scene in Seconds was shot in Grand Central Station, which couldn't be shut down for the purpose of the film. What Frankenheimer did to distract people from his film shoot was genius; he set up a fake camera on the other side of the station, with Seconds script-writer Lewis Carlino holding a megaphone and barking out faux-direction to a playboy bunny and male model involved in a passionate love scene on the stairs. Meanwhile, Frank Campanella (shooting himself with the camera he had in a harness), approaches John Randolph to deliver a cryptic message. More footage of this message exchange was captured by a camera in a suitcase that was rolling along on the ground. Then we're in the train following Randolph (a black-listed actor Frankenheimer had long wanted to work with), and Howe uses handheld cinematography (not just here, but through much of the film). Howe does not, it should be noted, use the jerky-cam or spastic-cinema approach so in vogue with many films these days. Howe's use of handheld is both fluid and loose, but measured and not done to excess – and always artful, playing with compositions in ways that are meant to evoke bi-secting moves and disorientation in general.
Arthur Hamilton (played by Randolph) is clearly a character feeling disconnected from his own life. At home he sleeps in a separate bed from his wife, Emily (Francis Reid), and his work at the bank is clearly repetitive and meaningless to him. When an old friend he thought had died suddenly starts calling him and promising him a second chance at life, he embarks on a bizarre journey that begins at a slaughterhouse… "Honest Arnie's" slaughterhouse to be exact. (Not only is "Honest Arnie – the Used Cow Dealer" the real name of the business, but that's the real Honest Arnie who takes Randolph in and transports him to the next destination!)
Hamilton then finds himself in the waiting room for the clinic, where he gets drugged and the hallucinatory sequence that follows alternates between an 18mm lens and a 9.7mm lens, between a regular set and a distorted set, and with camera edits that rock back-and-forth at 180 degree angles. The visuals are sheer genius, and very faithful to the description given to this event by David Ely in his book (which, by the way, and as you can see from my attached image, is promoted in my edition as "The best thriller of 1964″ by Ian Fleming.)
Once Hamilton awakens from his daze he scurries out and through a strange room filled with men waiting at telephones (we will later understand that this is a limbo for people who have already gone through The Companies process once before and are seeking yet another chance at a new life). With some guidance he is finally pointed toward his interview with The Company, as conducted by Mr. Ruby, played by Jeff Corey – another blacklisted actor. Frankenheimer adds that "This whole business of the black-list is so shocking. It's amazing to me that I lived through it."
Mr. Ruby goes over all the details involved with being reborn through The Company – including the cost, the requirement that his current identity be "killed" because, after all, "the question of death selection may be the most important decision in your life." And, of course, life insurance and trusts are also important, and Hamilton is assured that his wife and daughter will be generously compensated for in his death. Lest Hamilton should have any reservations about backing out at this point, Ruby shows him the film that was made while he was drugged and that shows him seemingly taking sexual advantage of a terrified woman, thus adding blackmail to the previous incentives for him to sign papers and go on with this strange business of taking on a new identity.
"Rebirth. Life again. Begin again all new, all different. The way you always wanted it. You got another chance. Heck, nobody's going to miss you, are they?"  These are the words spoken by the "Old Man" and founder of The Company, played by Will Geer – who Frankenheimer quickly points out, again, was "ANOTHER man who had been blacklisted all those years." The exchange between Geer and Randolph is allowed to breathe in a long continuous take, causing Frankenheimer to say that "I see more and more movies that are cut like MTV videos, and I resent that."
Then comes the operation and the transition from John Randolph to Rock Hudson or, rather, from Arthur Hamilton to Antiochus "Tony" Wilson. In shooting this sequence, which involved real operations, six of Frankenheimer's film crew fainted and Howe insisted on Frankenheimer himself shooting the second camera because "everyone's on the ground" adding "I don't even care if it's steady – just go in there and shoot it!"
Enter Rock Hudson. "At the time we made this, Rock Hudson was the romantic idol of the world. The idea of Rock Hudson playing this part was a very, very daring career move for him. He acknowledged this as the best thing he ever did. I don't know if he's right… " (Allow me to humbly suggest that, yes, he is right.) Commenting on how Rock Hudson looks when they take off the bandages, with white hair, looking beat up, with scars, well, according to Frankenheimer: "To have Rock Hudson look badly at that time of his life was one of the great achievements in cinema, let me tell ya…"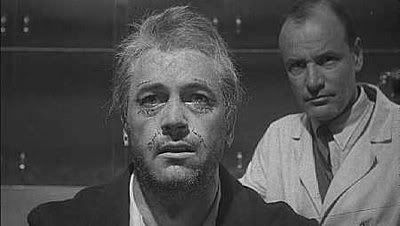 Then comes a tip of the hat to Khigh Dhiegh, who Frankenheimer wanted to use again because "we had such a good relationshiop in Manchurian Candidate." Again, Dhiegh plays a pschiatrist. He sits Hudson down to hear a tape of things he was recorded as saying, such as: "I want a ball, a big, big red one," and then later: "I guess I'd like to paint stuff…" Of course, there's just no telling what you'll say when under the influence of Pentothal and caffeine sodium benzoate but, no matter, The Company is already off and running with Hudson's new identity.
Next: Hudson (aka: "Tony") gets put on a plane to Malibu, California. But because Howe insisted on shooting on a real plane (thus making Frankenheimer commandeer a private flight aboard a TWA 707) and because Hudson's only request on the entire film was that the stewardess be played by his wardrobe man's girlfriend, who ended up being terrified the entire flight, the result was: "Two close-ups out the window that we coulda shot in a bathroom" but that actually involved going "back-and-forth four times from Mexico to Canada."
When "Tony" lands at his new home, it's actually Frankenheimer's home. (He doesn't recommend this for future filmmakers, as he had to move out, live in a hotel, and worry the entire time that the film crew would wreck his home. Still… he concedes that it gives a glimpse to the curious for what life was like for a movie director in 1965.) Other regrets? "Every time I see (Rock Hudsons) outfits, I cringe." But on the plus side,  Frankenheimer learned something very important from Howe while shooting this film: "Always show your light source."
Enter Nora Marcus (played by Salome Jens), a bohemian who is about to open up "Tony" to new experiences. And, specifically, this happens at the hour-mark to the film with a breakthrough of great bacchanalic proportions. Or, perhaps, you could label it a break-down, since it involves getting an uptight, inhibited banker to somehow shed all his inhibitions amidst a bunch of crazy and drunk, naked hippies. Inspiration came in the guise of a real wine festival in Santa Barbara where people strip down, get drunk, and go crazy in a wine vat. (I, personally, would never drink any wine made here.) The shoot itself was very difficult because Hudson had many reservations and attempts at costuming and hiding nudity were falling the the wayside. Howe himself, who had no reservations about shooting surgery scenes that caused others to faint, really didn't want to get into a crowded vat with nude people, and so Frankenheimer was left doing the best he could with an Arriflex camera wearing a bathing suit that was ripped off within ten seconds.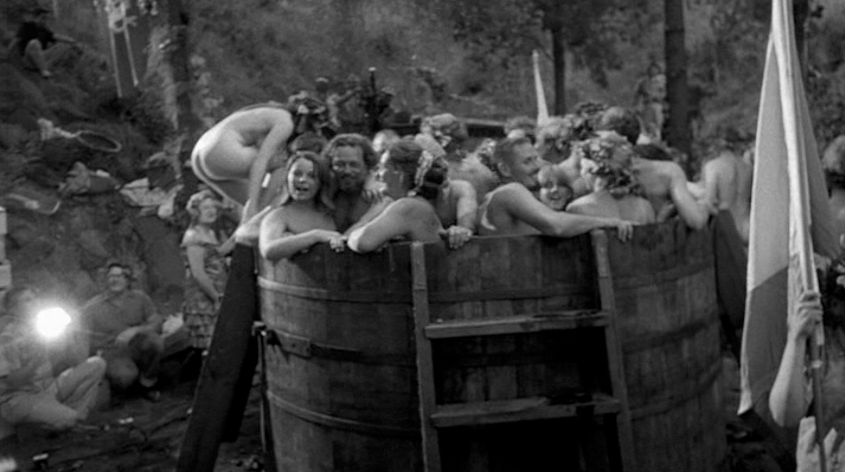 The Catholic Church made Frankenheimer edit the wine-vat scene from the domestic version, but anyone with access to the (currently out-of-print) dvd will see "the correct version." Ironically, the edited version "really looks like an orgy," while the correct version shows "the kind of joy and freedom of these people and shows that this can be a huge breakthrough for this guy, and doesn't look like some sex club." A shot shows Hudson being very uncomfortable, and Frankenheimer makes it clear he was "not acting" for that. "But he went for it, and this was all in one take – there wasn't going to be a 'take two' on this."
The follow-up again finds Howe insisting on being genuine. Whereas most films shoot supposedly "sunrise" shots at sunset, Howe insisted on gathering the crew at 4:30 on the morning on the beach to shoot at actual sunrise to show "Tony" and Nora sharing an idyllic moment. The idea of being genuine flows right into the next scene for the night-time party where "Tony" gets out-of-hand. Frankenheimer suggested it, Hudson endorsed it, and so… Hudson got genuinely ripped on booze. As a drunk Rock Hudson hugs a back-deck pole by Frankenheimer's swimming pool, another one-time blacklisted talent comes to the fore: Ned Young (playing the part of Henry Bushman) who, "under the name Nathan E. Douglas wrote the picture, and won the Academy Award for The Defiant Ones, he was a blacklisted writer, he rewrote Seven Days in May without credit and he wrote and didn't receive credit for, although he should have, for writing The Train." The editing and cutting, with two cameras in one room, got very fragmented, in a way that Frankenheimer says "was a very rare thing in those days." The other person on camera besides Howe? John A. Alonzo, who later won an Academy Award for his cinematography on Chinatown (Howe, it should be mentioned, was nominated for an Academy Award for Seconds). The party ends badly for "Tony," as he is surrounded by other "Reborns" who don't appreciate his drunken revelations.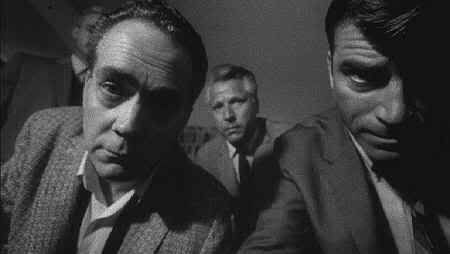 An angry call from his old chum, Charlie Evans, gives a very hung-over "Tony" the necessary shock to bolt out of bed and escape Malibu to get back home. Frankenheimer regrets not fighting the studio to keep in a scene where "Tony" visits his daughter and her husband (which was in the book), which would also have been interesting from the perspective that the daughter would have been played by Frankenheimer's wife, Evans Evans, but, alas, even the negative of this scene is missing.
So we near the end. Arthur, as "Tony," visits his wife pretending to be interested in a memento of some of Arthur's watercolors. Why? Because, according to "Tony," Arthur "had something."
Žižek claims that for Arthur's character "there is no redemption whatsoever," but my astute companion at the Telluride screening, who saw the film for the first time, was able to find two instances that call that notion into dispute. In the first instance she viewed Arthur's return to his wife as a moment of revelation; he awakens to the reality that he was responsible for the disconnect in his marriage. In the second instance (coming up at the end of the film) he refuses to finger anyone else for The Company.
At this juncture Frankenheimer really spills the beans: "This picture means a lot to me for many reasons. One of the reasons it means so much to me is that this movie says something that I firmly believe in. That, in life, you are the result of your experiences. The result of your past. Your past makes you what you are today. If you take away your past, you don't exist as a person. And that's what he tried to do, and that's why it doesn't work. And by your past I mean your mistakes as well as your triumphs, whatever they are. It all counts toward making you whatever you are at the moment you're sitting down to watch this laserdisc."
Unfortunately, despite good reviews, the film was a failure upon its release because the people who wanted to see Rock Hudson did not want to see this kind of film, while the people who wanted to see this kind of film did not want to see Rock Hudson in it, "as a result, that leaves an audience of about five or six… this was literally a movie where you could call up the theater owner and say 'What time does Seconds go on?' and the guy would say 'Well, what time can you get here?'"
When "Tony" goes back to The Company for another rebirth, things get even more bleak. He finds himself in the same waiting room full of the men stationed by the phones that we saw earlier in the film. They all take their medication, kill time, and are obviously anxious for change. In this room "Tony" is approached by his unrecognizable friend, the self-same Charlie Evans (now going by Carlson) who got things rolling at the beginning of the film. "Tony" realizes his botched attempt at a re-birth is not a singular event.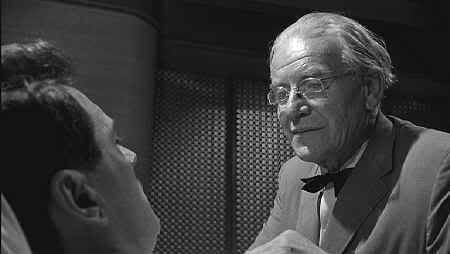 "Tony" Wilson (also referred to by The Company as # C.P.S. 722) now goes to "the next stage:" When "Tony" refuses to cooperate in finding a replacement for himself, he's put in a bed, granted one last meeting with "the Old Man," and strapped in for last rites. Hudson was so strong that he broke his harness the first four or five times, requiring stronger straps and also professional athletes to hold him down. "This last image coming up was an afterthought. It came from a scene that was never in the movie that I cut out of the movie when he watched a father carrying his small child down the beach. I took it out for reasons of length, but I found a place for it… I think it's more effective here than it would have been in the middle of the movie."
I still find this last scene, even after repeat viewings, absolutely gut-wrenching, a richly enigmatic shot that makes we wonder if Arthur's last thought was of himself as a father, or a child, or even simply him thinking of another family altogether? This ending image may have only been an afterthought, but it nonetheless provides a knock-out poetic punch.
Cue the sad music, with just a tinge of the organs…