I just got back from attending my 14th Telluride Film Festival and wanted to share my overview of the experience. For a far more cogent overview, please read Jeff's previous post. Me? I'm treading water at work and currently hoping to hit the sack in the next half-hour, so (sorry) but; yeah… this here's my sloppy, down 'n' dirty lowdown, as written under the gun, for the first night only. Look to next week's post for modifications, extrapolations (and apologies).
Thursday, August 28th:
After an eight-hour drive through scenic Colorado landscapes we finally arrive at Telluride and have just enough time to grab a quick bite before heading into the Elks Park for a free screening of short films to be followed by an hour-long Swedish documentary about an 1897 polar expedition by Jan Troell titled A Frozen Dream (En Frusen drom, 1997). BTW: Novices be warned – regular lawn-chairs are frowned upon and if you want to sit on the green and under the screen, make sure you bring a low-lying chair that posits your butt no further than an inch off the ground. Okay, moving on:
One of the things I love about Telluride is that they'll project 35mm films out under the the stars, regardless of the weather, no matter how wet or cold it gets. I've attended previous films shown here in the park with both sleeping bags and umbrellas, but tonight the weather was clear and warm. In short: it was just beautiful, a perfect evening. Almost.
The shorts in front of the film were all a lot of fun, ranging from classic Chuck Jones stuff (ie: Daffy Duck's Duck Dodgers in the 24 1/2 Century) to a great black-and-white bit starring Tom Noonan titled Tom Goes to the Bar (1986). But the "reel" highlight of the night? Betty Boop. Holy Cow! Betty Boop had (and still has) it all: sex, great music, surrealistic landscapes, and great hand-drawn animation that is constantly morphing into haunting and exotic shapes at every turn. It is both unpredictable and riveting. In a word: awesome!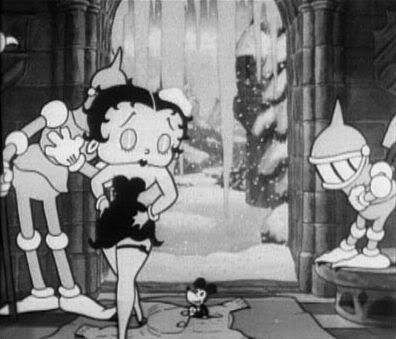 After the shorts; A Frozen Dream begins. Alas, my experience on this film turns into a frozen nightmare and I can't report back on this documentary. I can tell you that, later that night, I got this text from fellow Morlock Jeff about the film that read: "It wasn't really what I would have programmed for an outdoor screening, but it did make me hungry for blood pancakes with bird paste and bear brains. If you weren't at the park, I'll explain later."
Well… I was at the park. But my problem was that I was up-front and distracted. You see, sitting in front of me was a family of eight. My best guess would say it was six kids and two parents (but it was dark, and they were all under blankets, so the jury is still out on the exact gender and family roles being played out). So far, so good, except for one thing; every single one of these creatures arrived late for the screening (and ergo was mute to any announcements that may have been made about turning your cell phone off), and every single one of them was playing with their cell phones.
Side note: Eternal frustration is this – the people who should MOST read, hear, or see any announcements concerning how either talking or texting or otherwise playing with your cell phone during a film is a sign of solipsistic rudeness are also, not so inexplicably, the most likely to show up late for a film and, thus, the ones most likely to miss such delicate signals altogether. Not that it matters much; such people simply have no respect for the film experience of others.
And that brings me back to these eight bundled-up little family units who ended up spending more time staring at their glowing little cell-phone screens than the lit up image directly above them. It could be that either the subtitles or the difficult subject matter of the film were obstacles, in their view, to be ignored in favor of the immediate pleasure and gratification of reading some "gr8t" news as posted by an immediate friend or neighbor.  But, either way, they were clearly more interested in communicating with people who were not rolled up directly alongside them than they were in the film splayed out large that was directly in front of them.
I immediately hated them. I turned into a troll under the bridge. A complete misanthrope. And I wished with every fiber of my being that the usher-Gestapo would show up and ship them off to to another place. (Don't worry, this analogy goes no further. The other place would simply be a warm home with internet access and Tivo. Just… please… not here, under the stars, ruining a perfectly beautiful evening for others.) Sadly, my personal film experience was not saved by some Deus ex machina. No, quite the contrary, the string of eight little glowing lights juggled their way merrily throughout, accompanied by giggles and more. Still, I cradled all negative impulses and thought to myself: "Ah, screw it. It comes down to this; it's just a casual screening in the park and everyone behind me is probably doing the same damn thing. Game over."
Also – a confession: I was (am) no angel. I was in that same open park flagrantly defying (certainly) some law or other regarding open containers. I'd like to say that my crime was of the victimless sort, as my beer bottles never made a sound, even if they rolled down in the grass, and will add that I did not have to drive home after the event since our place was within easy stumbling distance. But I know that my burps are not laden with flower petals and so, no, I do not claim to be a saint in this scenario. I had my weakness too. And my weakness forced into the itinerary a bathroom break, halfway into the film.
As I moved from my position at the very front, and below the screen, to the backside and beyond, it is then that I realized something rather shocking. This large mob under the stars was actually on rather good behavior. From where I stood in my vantage point at the very back I could clearly see that the only goons so rude as to play incessantly with glowing cell-phone screens were, in fact, the same family at the very front – the ones in front of me.
Well… that did it. Upon my return to my seat I completely lost all patience. The film was 3/4th of the way through, and these rude little idiots in front of me had been texting their friends and otherwise playing with their phones throughout, and I had lost all patience. It was time to bring out the big guns.
I started flicking my beer bottle caps at them.
BONK.
Right on the head! Quickly, I turned around and feigned ignorance while they looked around. Still… no discernible impact on their texting habits. They went back to playing with their phones.
BONK!
Another beer bottle cap spun perfectly their way. Another feigned look of ignorance from me. Another imperious, and collective, shrug of indifference from the cell-phone users.
Okay, now I'm really pissed. I grab a handful of bottle-caps, throw it at their collective heads, and scream: "STOP PLAYING WITH YOUR F-CKING CELL PHONES!"
This worked! For 15 minutes. Then, in a show of defiance, the glowing cell phone screens were brought out for the last ten minutes of the film. Or maybe it wasn't defiance at all, but rather simple addiction. After all, addicts don't care about laws or appearances. They simply need their fix.
And so the night ended; with friends and guests in tow, walking down an alley back to the lodging we had secured for the festival. As I griped about the family of cell-phone addicts in front of me, and even mentioned my beer-cap assault upon them, my fellow Morlock, the so-called "Angry Robot," looked at me incredulously and said: "Really? I didn't notice them at all. It's a screening in a park, for God's sake! Who cares? People can do whatever they like."
I am not proud to report that it was at this point that I punched Angry Robot. Twice. In the ribcage. He responded with a punch that approached my chest but only reached my side. It was light, and lacked conviction. Imagine a Mickey Mouse glove filled with popcorn. It was entertaining, but not threatening. I responded with another jab and, this time, his response was quicker and sharper. It might have continued this way had we not reached our destination; we had a hot-tub awaiting us under the evening canopy, where we could soak up the starry night and count shooting stars.
Well, at least that's what I did. Angry Robot went right to sleep. I hope he dreamt of electric sheep constantly interrupting an archive print screening of Blade Runner.