I've been behind on reading my weekly Variety's, so I took home the last three issues tonight and thought I might assemble a hodge-podge of excerpts from those since I know most people don't subscribe (it's friggin' expensive!)… but as I was assembling my clippings on "Polish movie fans (that) stripped naked at a Warsaw cinema last week for the chance to watch films by Alejandro Jodorowsky…" (June 16-22), and a movie review on the latest film by Frank Henenlotter, the director of Basket Case, about "a genitally engorged male monster with a blonde babe who has seven sexual organs and a singular case of 'permanent sexual arousal,'" (also June 16-22 issue), it occurred to me that… never you mind all that. Spanning these last three issues of Variety one theme rose up to catch my eye, and it's going to catch a lot more eyes soon: I'm talking about the latest developments with 3-D.
In Variety's June 16-22 issue was an article by David S. Cohen outlining the three main players in the upcoming 3-D battles: Real D, Dolby, and NuVision. Imax was left out of this equation because it "uses its own systems." To put things in a nutshell: exhibitors like Real D for the free, inexpensive, and disposable glasses provided by the distributor. What they don't like? The system requires silver screens in the auditoriums which, for normal 2-D projection, some exhibitors complain "of a central hot spot and darkness at the edges." The Dolby situation reverses things insofar as exhibitors are happy about the screen situation (a standard matte white screen is fine), but the glasses are multi-use, cost $35 apiece, and need to be washed between shows. And NuVision? It uses "yet another technology: shuttered glasses that lighten and darken on alternate eyes many times a second, in sync with the picture on the screen." But, yes, it works with a regular matte white screen. So it's similar to the Dolby approach where the exhibitor's expense comes with the glasses. For more info:
http://www.variety.com/article/VR1117987457.html?categoryid=2222&cs=1
Then, in Variety's June 30 – July 13 issue, "The fat lady sings in 3-D," an article by Archie Thomas that discusses James Cameron's film Avatar (aka:) "Dream-Work's animated 'Monsters vs. Aliens' – and opera singers and ballet dancers." The film was part of Cinema Expo in Amsterdam, where "conversations were dominated by talk of the need for digital cinema to pick up the pace in Europe so that the 3-D revolution can take hold." For more info:
http://www.variety.com/article/VR1117988220.html?categoryid=2526&cs=1
In that same issue of Variety was another article titled "Will auds make 'Journey' to 3-D?" by Diane Garrett, that suggests that Philip Anschutz "a Denver tycoon with tentacles throughout showbiz, is using his unparalleled might to try to reshape the face of exhibition with his movie." The script was specifically written "as a live-action 3-D project to goose that biz, a major priority for his Regal Entertainment theater chain, and fulfill his mandate for wholesome family entertainment at the same time." Full article for that at:
http://www.variety.com/article/VR1117988215.html?categoryid=13&cs=1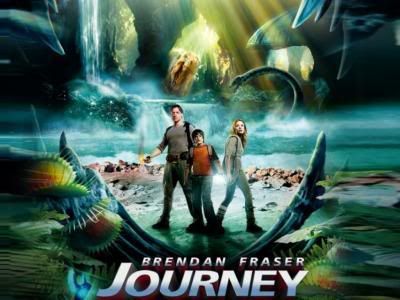 The capper to all this is the film review (also same issue of Variety) for Journey to the Center of the Earth, written by John Anderson, which opens with the following sentence: "With a principal cast of only three, the new 3-D Journey to the Center of the Earth probably has the highest screams-per-capita ratio in the history of action-adventure pics, and a better thrill-per-minute deal than most." For the full review, click here:
http://www.variety.com/review/VE1117937550.html?categoryid=31&cs=1&query=journey+to+the+center+of+the+earth
Hmmm? Hyperbole? Or is that the sound of the Dolby kicking in for the first time as a new crop of kids circle around the block to see what will amount to be the Star Wars of their generation? You be the judge.