Mark Hellinger loved "the lullaby of Broadway–the hip-hooray and ballyhoo, the rattle of the subway trains and taxis, the folks who entertain at Angelo's and Maxie's". Writing at a time when newspapers took on an even greater role in chronicling (and creating) news, Hellinger had, by the early '30s, achieved a certain amount of personal fame. He wrote regularly of the antics of Texas Guinan, Dutch Schultz was a drinking buddy, and he was a regular at ringside whenever a Dempsey, a Louis, or a Schmeling took to the ring.
As perhaps the first Broadway columnist and a leading daily documentarian of the approximately 1.8 mile square area known as the Great White Way, he contributed to the creation of the American celebrity culture with his nods to the famous and the notorious. He also, soon grew tired of the daily grind of newspaper writing, though he certainly liked the fame that went with his youthful success.
As an example of his influence while still in the newspaper business, he'd accompanied singer Al Jolson and his new bride, 19 year old dancer Ruby Keeler on their honeymoon to Europe in 1928*.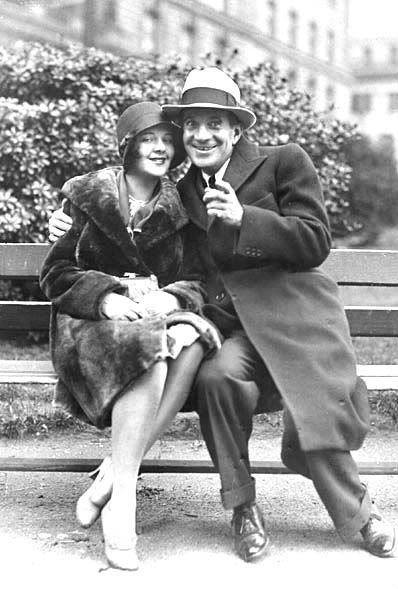 The continent, in Hellinger's sometimes parochial view, was loathsome, largely because it was not New York. His third wheel status on the honeymoon did not bother Hellinger, since he regarded it as great publicity. Yet, as he sent increasingly bored columns back to the New York Mirror about life on ship and on the continent, his discontentment became more obvious. He loved being famous, certainly. (One of several irksome things that he disliked about Europe was that no one knew who he was. There were no truck drivers or cleaning ladies or bartenders who called hello as he passed on the streets of London and Paris).
As he scaled the heights of Broadway columnists, he also began to find the daily grind of churning out columns more tedious. He began to look for inspiration and story ideas among his public. He took many of the column suggestions received by his staff at the office and incorporated them into his own columns, hoping to document the hopes and joys of the characters and the anonymous people he prized. Sometimes he chose to acknowledge the contributions for ideas to one of his readers, other times he did not. This practice was not uncommon in the rambunctious world of daily papers in the '20s and '30s. Lawsuits occurred on occasion, but little came of it, though some found his sudden twist endings to his fictional endings rather familiar.
Mark Hellinger would be the first to admit that he was not an original prose stylist. The cold truth was that the columnist, who was read each week by an estimated 22 million, occasionally fancied himself a short story writer, playwright and screenwriter. Despite this, he was not a particularly literate man. Yet he loved a good story. If he could have mimicked any writers, the two whose gifts he might have longed for, and whose styles he often tried to emulate, were O. Henry and Ernest Hemingway. Hellinger loved the terse elegance of Hemingway's prose and tried to adopt it in his "reporter's telegraphese". The columnist, when describing a beauty contest winner would write, "She was pretty. Very pretty." In one column describing a bullet-riddled mobster, he even approached self-parody, writing, "He was dead. Very dead." Clearly, Mr. Hemingway didn't need to lose any sleep over Hellinger's competition.
Hellinger was closer in spirit and tone to O. Henry, with whom he shared his love of New York and all its denizens. The turn of the century short story writer and jail-bird, O. Henry, writing a generation before Hellinger, was actually William Sydney Porter. Loving the variety of life and experience to be had in his adopted city, O. Henry had christened the metropolis of New York City "Bagdad-on-the-Subway" and, like Hellinger, he had a natural affinity for those who'd done time, particularly since Porter had been imprisoned for embezzlement in Ohio for three years himself, beginning in 1898. Adopting the slice of life realism and ironic endings of 19th century French author Guy de Maupassant, O. Henry had perfected the story ending with a twist that became synonymous with his stories. The reporter's two books of short stories published in the thirties are "Moon Over Broadway" and "The Ten Million".
The latter titles is an homage to the O.Henry's famed collection, "The Four Million", first published in 1906. In Hellinger's famous, rather dramatic narration for his last film, The Naked City,(1948) he ends the film with words that also echo O. Henry, declaiming that "There are eight million stories in the naked city. This has been one of them."
In Hellinger's columns, the surprise ending borrowed from O. Henry sometimes meant that a fictionalized account of a showgirl, who, while seemingly devil-may-care and the toast of New York, would end up in a cold water flat with tuberculosis, with flowers sent to her regularly and anonymously by a hoodlum who loved her. Other times he would document the pretend infidelity of a fashionable wife for her rakish husband, only to have him divorce her. In writing of the lonely death of a fellow reporter who'd always been chronically late for a story, Hellinger said that the reporter's sister, who had thought that his ashes had been delivered to her, had opened the urn to show him that it was empty and laughing bitterly, said "Isn't that just like Ed?"
Hellinger attempted to introduce several purely fictitious characters in his column, including letters from a and one, a Polish immigrant named Wladek Hravlek became a regular feature for a time, writing in dialect about his impressions of life in the New World. While these characters were often close to the hearts of his public, even when they were actually a creation of an accommodating rewrite man in the city room of the newspaper, Carl Winston. Another brought the observations of Myrtle the Manicurist to the readers, and one regular column was alleged to be the Letters from an Office Boy. As entertaining as these might be, these sometimes sentimental and occasionally morbid columns and characters reflected a dark streak in the columnist's makeup. He had become preoccupied with the irrevecoble nature of Death early on in his career.
In his files, page after page of his column with items about those who became famous in New York had penciled notes in Hellinger's handwriting attached to them, noting that the person often being praised in print in his column was dead within a year of pneumonia or a bullet or suicide. When he was a mere 25 years old, he suggested his own epitaph: "Here lies a brave man. He was funny looking. He never did much for anybody. He wrote the most awful puns. He never amounted to much. But he was a brave man just the same. He once judged a beauty contest for redheads."
This darker and more reflective side of Hellinger's sometimes sentimental writing that was emerging at this time hardly reflected the desires of the newspaper editors or owners. Hellinger, who chafed under any supervisor, did not take kindly to the edicts for more sass, less schmaltz. Eventually an ultimatum came from management to have a column much more like that of his friend, Walter Winchell. Short on prose, long on gossip, with blind items, and regular references to the great figures of the day such as Lindbergh, Hoover and much-married model for Gentlemen Prefer Blondes' "Lorelei Lee" character, Peggy Hopkins Joyce. Hellinger knew that this was not for him. He looked, like Alexander at around the same age, for new worlds to conquer.
In his columns, he may have enjoyed writing the fictionalized accounts of the showgirls and shopgirls, the immigrants and the hoodlums more than he did the gossip items. He'd take a story of a husband and wife, (often modeled on his own sometimes shaky marital state with wife and Ziegfeld showgirl, Gladys Glad), embellish it with some truths and much fiction and present it to his readers as an example of life in the Big Apple .
Mark Hellinger met his celebrated and beautiful future wife at one of the endless series of beauty contests sponsored by publicity hungry newspapers in the roaring '20s where he was one of the judges. (Guess who won?). The willowy Bronx native, whose nasal speech belied her lovely face and form, was fourteen and already a veteran showgirl. She was also being paid more than Hellinger was on a weekly basis for gracing the Ziegfeld productions with her presence in musical comedies of the time such as No Foolin', Rosalie, Rio Rita and Whoopee! She would marry Hellinger in 1928 and, within about 3 years, would be retired from show business. Though they broke up and reconciled several times, Gladys Glad was, despite her husband's constitutional inability to be completely faithful, generally acknowledged as the love of his life. Called "Glad" by all who knew her, she was the mainstay of a very poor family who could match her husband drink for drink, and give him the benefit of her exceedingly sound understanding of the world–when he listened.
Hellinger's equally turbulent love affair with the movies began in earnest during their 1929 honeymoon in Los Angeles. After several weeks of partying, describing the residents as "farmers" with a narrow view of the world and pronouncing such figures as Clara Bow and Lilyan Tashman to be tough little cookies and snobs, he labeled Hollywood as "the nuttiest place I've ever seen. Still, I'd like to go back."
Alternately praising and denigrating the products of the Dream Factory, Hellinger longed to be paid some of the long green cash that other writers collected during the Depression. He'd been impressed by the Faulkners, Fitzgeralds and Benchleys who moved to the coast when talkies came in to provide dialogue for the shaken film colony. Still, Hellinger may have realized that he was not in the league of any of these writers. He also saw how little appreciation these writers were given by their studio employers and the futility of most of their efforts to help make the movies more realistic or literate. While Night Court (1932) and the delightful Frank Capra film, Broadway Bill (1934) were two films adapted from Hellinger stories. They were moderate successes, and nearly forgotten for the next fifty years after their completion and exhibition.
Hellinger eventually signed a five-year contract with Warner Brothers in 1937 to write and produce projects for the gritty studio that spawned Cagney, Robinson, Raft, and Bogart. It would seem to have been a natural fit. In an unusually cautious move for Hellinger, he kept, at his wife's insistence, his job as a Sunday columnist. As a novice producer, she argued, he was at the mercy of Jack Warner and company. As a columnist, he could maintain his independence and power.
His first project, announced initially for Bette Davis, was an adaptation of Faith Baldwin's Comet Over Broadway. After Miss Davis summarily rejected the tyro Hellinger script, the project was eventually given to falling star Kay Francis, who, it was common knowledge, deliberately given the worst vehicles on the studio's shelf in an effort to finish out her expensive contract as rapidly as possible.
After this unfortunate beginning, Hellinger was assigned to Bryan Foy's "B" picture division as part of the Warner Brothers First National unit. Foy, a show biz veteran as the son of legendary vaudevillian Eddie Foy, was sympathetic and knowledgeable realist. Hellinger said many times in the years to come that "I learned more in that first year working with Brynie than in all the years that followed." Foy emphasized the need to tell stories with as little dialogue as possible, which Hellinger applied as much as he could to his assignment on Hell's Kitchen, working with the Dead End Kids and the future president and new contractee at Warners, Ronald Reagan.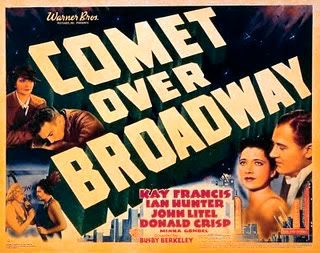 The reviews for the film noted that there was a more serious approach to the increasingly unfunny crimes committed by Leo Gorcey and company, who were portrayed as neglected children of the streets, caught in an unfeeling bureaucracy. More important than some pretty good reviews, from the Jack Warner viewpoint, was the fact that the movie made money, as did the last Kay Francis programmer of her contract at Warners, directed by John Farrow. Women in the Wind(1939), which has good performances and snappy dialogue (delivered with verve by Eve Arden) may have seemed to be "very small potatoes" to Hellinger, but it holds up rather well.
As Hellinger began to become more familiar with this brave, new world, he moved into a lavish 11 acre estate found by "Glad" that was remarkably opulent, even for Hollywood. He took assignments at Warners in his stride, but gradually, he found that working on a script of his own devising, called The World Moves On, appealed more to him than his workaday projects. Eventually, he showed it to his studio boss after Foy, Hal Wallis, who loved it. As a matter of fact, the studio loved it so much that they changed the name of it to The Roaring Twenties, and told Hellinger that it was too good a story for him to produce! The story, which centered around three young veterans of World War One, blended the scenes of Hellinger's early youth and experience: the nightlife, the bootleggers, the performers and the chiselers who thrived during Prohibition.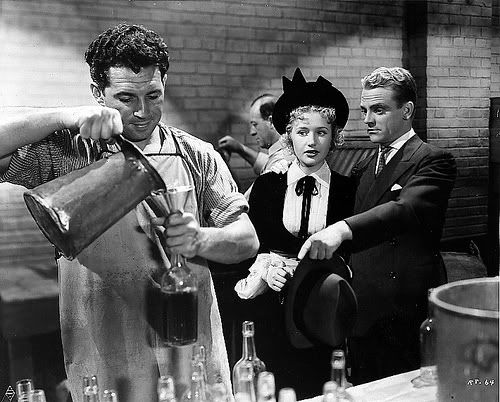 Hellinger eased his emotional and artistic investment in the script only to the point of allowing experienced scenarists Robert Rossen, Jerry Wald and Richard Macaulay to help shape it into a shooting script. Sleeping at the studio, working 24/7 on the movie, he was quietly delighted to find the cast included James Cagney, an old drinking buddy from NY, Humphrey Bogart, songbird Priscilla Lane and veteran character actress Gladys George would play a role seemingly as hard-boiled yet decent as the real Texas Guinan. Perhaps best of all was the fact that it was to be directed by Raoul Walsh, one of the first directors he'd made friends with in LA during in his honeymoon visit in the late '20s. Walsh, like Hellinger, told stories that were filled with a zest for life. Both men also shared an understanding of the underside of ambition, and the lessons learned by their protagonists were often fatal, though there was a heroism in the failures they experienced, nevertheless. The production went smoothly and with Walsh's breakneck pacing and Cagney's dynamism and Bogart's malevolence, the film became the talk of the studio. The wonderful period music of the movie was infectious and WB's publicity dept. worked overtime promoting the film and the music on radio shows such as Kate Smith's and in Life and Look magazines. When the film opened to raves, Hellinger's old friend Winchell entitled his column devoted to the movie, "When Mark Hellinger and W.W. Were Sweet Sixteen".
One thing did irk Hellinger. An actor named John Deering had been hired to do the narration, setting the tone of the film and bridging the story together in the period of Prohibition that Hellinger knew firsthand. Someday, the writer-producer told himself, he might find a way to do the job himself. As it was, he received no credit as even an associate producer, though he did receive acknowledgment for his story in the credits. Once the film opened, however, and proved a smash hit for all concerned, he was made.
His next project, the charming, low-budget, low-key Humphrey Bogart-Ann Sheridan movie, It All Came True (1940), about a gangster hiding in a theatrical boarding house, was based on a novel by popular writer, Louis Bromfield. Originally planned for Warners' star George Raft, it had been rejected by him as unworthy and described as a "goombah" part only worthy of a second tier actor such as Bogart. Hellinger, who'd first seen Raft when in the '20s dancing frenetically in speakeasies for pennies, accepted this high-handed attitude and felt that Bogie could bring more to the part in any case. The film, which does not seem to have much of a following among cinephiles has some Hellinger touches: time is spent on characters and incidents that do not seem to progress the plot, such as a demonstration of the dubious theatrical skills of the boarding house tenants. The leisurely scenes devoted to such character actors as Felix Bressart, Zazu Pitts and Una O'Connor and the warmhearted and relaxed reactions of Ann Sheridan and Bogart make this film different and diverting entertainment. Nothing much happens, but life and the characters sketches in this movie have some charm. It would not be the last time that Hellinger and Bogart had their careers enriched by Raft's shortsightedness.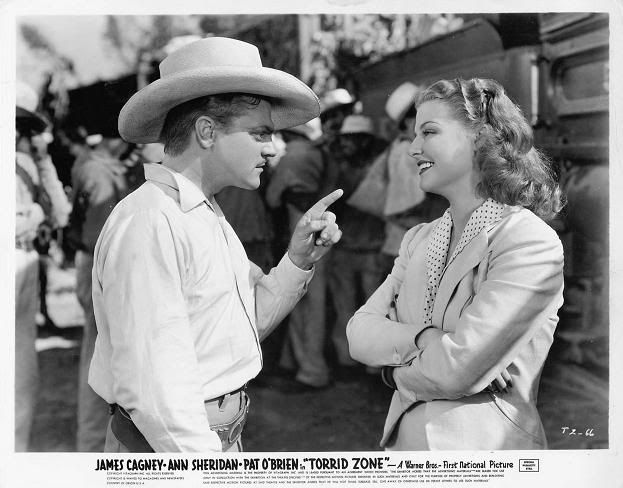 An absurdly entertaining potboiler about a banana plantation, Torrid Zone (1940), both proved to be box office winners and moderate critical hits. The film was invigorated by an unlikely looking, moustached Cagney and Pat O'Brien as friendly enemies, along with Miss Sheridan again and in an unlikely bit of amusing casting, George Tobias as a bandito disrupting the delivery of the Chiquita bananas. While these films occupied Hellinger's time and his quart a day brandy habit and perpetual cigarette between his fingers seemed to steady him, it was work that the pursued with a vengeance. The distraction offered by the intense work was supposed to be consolation for some of life's blows.
Drinking heavily, weighing over 200 pounds, Hellinger had found himself unable to sleep and distracted and irritable with his wife. He had begun to hit his stride in the movie business, but it was the death of the last member of his immediate family, his 25-year-old brother Morrie, from endocarditis, that brought Hellinger's intimations of mortality into clearer focus. Ironically, it also marked the beginning of the period of the writer-producer's best work.
As we continue our look at Hellinger's life and work on Sunday, Dec. 30, 2007, the imaginative forces that drove him become clearer, as would the limits on his strengths and weaknesses.
N.B.: Please click here to go directly to Mark Hellinger: The Adventure of One in Eight Million Part III
****************************************************
* Mark Hellinger's odd presence on the Jolson's honeymoon was reportedly payback because a grateful Jolson was pleased that Hellinger had used his influence with gangster Owney Madden to prevent Jack "Legs" Diamond from extorting $50,000 from Jolson as "protection" money just before his marriage to Keeler. Some also say that Hellinger eventually inherited an armored car from Diamond, (others say it was a legacy from another dead tough guy). Eventually that car, which was exceptionally heavy, was hoisted onto a train car and sped west with its owner, once he took the bait dangled by Hollywood in 1937.